The year 2022 is about to end. With every passing year, everyone has some sour and sweet memories. Some such incidents also happen which leave their mark. Everyone wants to look back and see what special he did in this whole year. Today we are going to tell you something special in this report. We are telling you about such marriages in which the boy was Indian and the girl foreign. But love has crossed the borders and ascended.
Paris girl married Bharatpur boy
In Rajasthan's Bharatpur, a young man married a girl from the capital of France, Paris, according to Indian customs. The bride and groom took seven rounds and vowed to live and die together.
Rahul Goyal, son of Rajesh Goyal, owner of Chander Book Depot located near Mathura Gate, went to America six years ago to study. During this, he met Marjoleen Lopez, a girl living in Paris, and both fell in love. After completing his studies, Rahul settled in the Netherlands, a country in Europe. Then after some time Marjoleen Lopez also reached there and both started living together. When the family members of both came to know about this, they got married with their consent.
Rajesh Goyal told that his son Rahul told about a girl from Paris and sought his consent to marry her. Then I told him after giving consent that the marriage would happen in the country with Indian customs. When Rahul talked to Marjoleen Lopez, her family also agreed to this marriage. After this, a dozen people from Paris reached Bharatpur for marriage with Marjoleen, after which on November 6, Rahul and Marjoleen got married with pomp in a hotel here.
England girl came to Agra village
Hanna Habit, a resident of England, gave her heart to Palendra, a resident of Nagla Garhi village of Agra. Love blossomed and their love turned into marriage. 28-year-old Palendra, who works in a private company, married his girlfriend in the temple of his village. The family members are also very happy to have a royal daughter-in-law.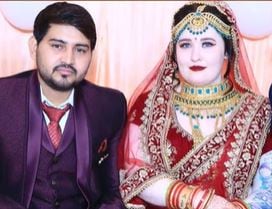 Palendra Singh, a resident of Nagla Garhi, works in a private company. It is about the lockdown, when he was doing work from home. He used to be active on social media. He used to share religious thoughts on social media to propagate his religion. During this, he came in contact with Hanna, a resident of England, on social media, she also liked Indian culture very much. The conversation started between the two and it was not known when the conversation turned into love.
Palendra Singh lives in a joint family. The entire family includes parents, grandparents, brothers and sisters. Hanna is also mingling with the family. Even though the daughter-in-law does not know Hindi, but all things are done in gestures. At the same time, husband Palendra Singh also helps in translation. Haina's mother-in-law Subhadra Devi is also very happy to have a foreign daughter-in-law. She cooks food with her own hands and feeds it to her daughter-in-law.
Haina also likes Indian food very much and is gradually getting into the village culture. She also goes to visit the village farms with her family members. Everyone gathers at one place and talks with Hanna and asks about the culture of England.
Germany's Jennifer became Ghaziabad's daughter-in-law
Ghaziabad resident Shrestha alias Sunny had gone to study engineering in Germany. After that he started working in a company there. During the same time he met Jennifer, a resident of Germany. While working, both of them fell in love with deep friendship, now both are tied in the bond of marriage.
The families of both had reached Bharatpur city of Rajasthan for marriage. The marriage of both of them was solemnized here in a private hotel with Hindu customs. On the other hand, foreign guests from Germany danced fiercely on country songs along with country dishes.
Ghaziabad resident Shrestha told that after 12th he went to Germany to study engineering. During his studies, he started working in a solar energy company. At the time of job, he met Jennifer, a resident of Germany. Gradually their friendship turned into love in three years. Discussed about marriage with Jennifer, she agreed. After that both of them told their respective families, then both the families also agreed about the marriage. While Jennifer from Germany and Shrestha's family from Ghaziabad reached Bharatpur. In a private hotel, both of them got married according to Hindu rituals.
Falling in love with an American girl while living in Saudi
America's New York girl Sonia came to India to get married to Mohammed Salim, a resident of village Udaipur Chandan in Kundarki block of Moradabad district of UP. Both of them got married recently. The marriage of Salim and Sonia remains a topic of discussion in the area. It is the first case in the area that an American girl has chosen a young man from a small village of Kundarki as her life partner.
Salim does hair cutting work
Two years ago, Sonia and Salim had befriended through social media. This friendship made both of them each other's soul mate. At that time Salim used to do hair cutting work in Saudi Arabia. Some relatives of the girl live in Saudi Arabia. With whom Salim is well known. Sonia is currently doing pharmacy course in America.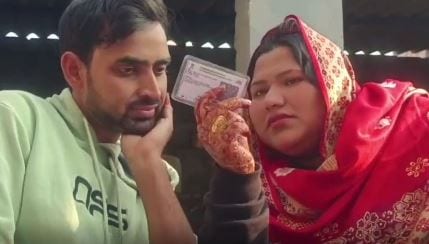 Sonia's family is also originally from Jamba district of Nepal country. Sonia's father had gone to America 42 years ago. Started doing construction work there. Later he got the citizenship there. Although Sonia's other relatives still live in Nepal.
Mohammad Salim told Digital Local that we had met through Facebook. I used to talk to him in English. So she used to joke with me and used to say that I also have to learn English. Then I told him that you give me your personal number. Then I will teach you English. After that the talk reached the wedding. Today she has come alone from America to Moradabad to marry me. I am also very happy to marry him.